Type A+ uses TypingAce software which is the leading technology in touch-type instruction.  Interactive typing games make learning fun, and typing tests help students to track their progress.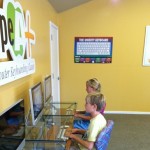 Our keyboarding software provides drills and games to help motivate students and reinforce good habits.
Both of our keyboarding centers offer the latest in equipment providing students with MAC computers.  The wireless keyboards allow for group and autonomous learning in each class session.